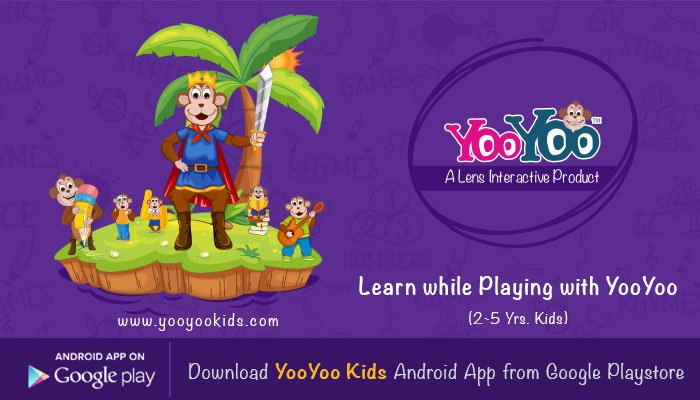 The Future of E-Learning and how  YooYoo Kids can leverage it to our kid's growth:
Children love to learn concepts through practical approach, and with the recent technological reach, Children are attracted to bright designs, colours and interactive content easily, teaching children through interactive methodology is a great way to accelerate the learning capabilities and help them to apply concepts through the real world.
E-Learning has come a long way since the advancement of technology, and with faster adoption of mobile technology we can see a lot of activity with kids who are using mobile applications and games to learn concepts by individual needs and ability. This curiosity of kids is enabling E-Learning technology to utilize learning content in intuitive ways.Keeping all these in mind, we at Lens Interactive Studio conceptualized and developed
YooYoo Kids E-Learning application for mobile devices, as modern age parents are adopting technology in their day to day life, our app would be a great learning tool for children.What is YooYoo Kids: YooYoo Kids is an Interactive & Fun Learning App for kids of 2-5 years
YooYoo Kids is designed for curious kids of 2-5 age groups which provide them with visual path of learning concepts through video's, worksheets, and games. YooYoo Kids teaches children on the go with new content and this enables children to learn basics in an intuitive way. App has great content in the form of (worksheets, animated video's, interactive games) which is an interactive way for current generation children to learn basic concepts.
Benefits of YooYoo Kids, https://goo.gl/PKlwS9:
● Watch animated video's and learn in interactive way.
● Use full set of worksheets for kids to practice and learn (worksheets are in PDF format)
● Play with interactive games and apply the concepts.
● User Friendly and Attractive UI for better learning experience.
● Download the content and use it offline.
Content in YooYoo Kids, https://goo.gl/PKlwS9:
Worksheets: (Colouring Sheets, Connecting the Dots, Match the Following, Do as Directed) and many more.
Video's: (Alphabets, Good Manners, Buckle My Shoe and Pussy Cat Rhymes) and many Games: (Paint with YooYoo, Alphabets and Numbers, Guess the Word, Karaoke).
Games: (Paint with YooYoo, Alphabets and Numbers, Guess the Word, Karaoke).
As the quote states: "The most profound words will remain unread unless you can keep the learner engaged. You can't see their eyes to know if they got it so … say it, show it, write it, demo it and link
Do try our Android App "YooYoo Kids" and see how it can help you to engage your children through interactive learning.
Happy Learning!!
Website: www.yooyookids.com
 Facebook: https://www.facebook.com/yooyookids/
Comments
comments