Failed startups in India this year and what you can learn from them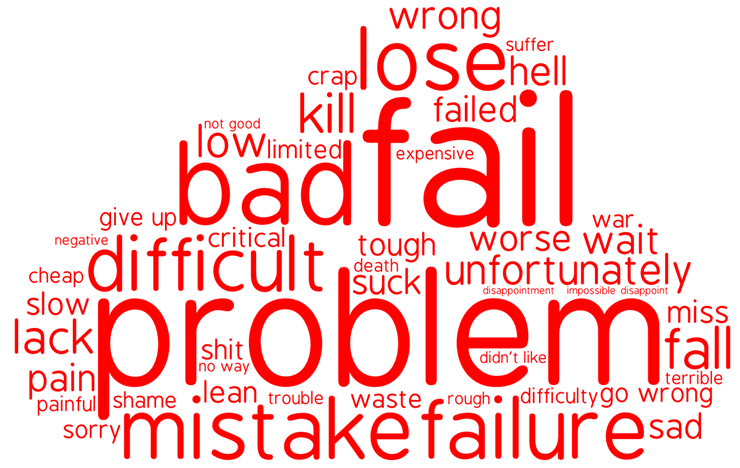 Learn from your mistakes. Even better, learn from others' mistakes. This is an oft-repeated piece of advice to startups, but it's easier said than done. We don't easily accept our mistakes to be able to learn from them. Nor do we find it easy to talk about them for others' benefit.
This is especially true in a society like India, where failure isn't worn proudly like a badge as it is in a more mature startup ecosystem like that of Silicon Valley. Last year, Failcon, a San Francisco origin conference aimed at sharing experiences of failures, got a lukewarm reception in India.
Perceptions make all the difference. If a failed founder is seen as being the stronger and wiser for it, he would happily talk about it. But if failure is seen as a sign of weakness, then it prompts reticence.
2015 is a watershed year for India, with over US$8 billion of venture capital funding expectedbefore the year's out – 50 percent higher than last year. This rush to invest in the newest El Dorado of tech startups has created its fair share of irrational exuberance, as half-baked business models and a plethora of copycats have got VC backing with scant attention to ground realities.
This is compounded by startup founders being surrounded by yes-men who do not give honest feedback for fear of being seen as negative influences. The media contributes to this distorted reality by constantly celebrating successes and ignoring failures.
But, as the following 11 examples illustrate, there's as much to be learned from a failure as from a success. However, beware of being "fooled by randomness." As Taleb cautions us, there are several factors or even plain luck that we often don't take into account when we attribute reasons for a success or failure.
Dazo
Golden investors and bona fide founder certification still couldn't save this one. The Google India MD, the Amazon India country manager, the FreeCharge CEO, and the founders of CommonFloor, TaxiForSure, and Yo China were all investors in this food startup. Its founder, Shashank Kumar Singhal, was the mobile product head for India's first bus ticketing site RedBus, who had qualified from the prestigious Indian School of Business. His co-founder Monica Rastogi was equally well qualified. And yet, it had to shut down in October within a year of launching.
The startup began as an internet kitchen with its own chefs and reliable partners serving a few localities in Bangalore. But soon the pressure to scale up made it pivot into an aggregator of restaurants as it focused on the tech at the cusp of food and logistics. This made it dependent, however, on many restaurant partners whose food quality and delivery efficiency were beyond its control. The curation of content it promised at the outset began to take a beating. It changed its name from TapCibo (because many new consumers didn't get "cibo" is Italian for food), but neither the new name Dazo nor the cool tech it had developed could prevent its slide.
A number of other food startups like TinyOwl and Zomato have run into problems this year, but are trying to ride it out with a longer runway they have in funding.
Spoonjoy, Langhar, OrderSnack
These are three other food delivery startups that were short-lived. Spoonjoy, like Dazo, had an impressive roster of investors including Flipkart founder Sachin Bansal. This food tech company got follow-up funding of US$1 million from Saif Partners. But it could not sustain operations and scaled back last month before being acquired by grocery delivery startup Grofers, whose founder Albinder Dhindsa made it clear that it was an acqui-hire and Grofers had no intention to diversify into the food delivery business.
As urban India sees a mushrooming of nuclear, double-income families, as well as a large influx of young singles with busy work schedules, there's clearly a big opportunity for food ecommerce. But this has led to a rush to fund food startups from investors with a "fear of missing out" syndrome. Not enough attention has gone into the cash burn and quality problems on the ground. Now, many of the startups are finding it hard to raise later stage funding and floundering.
Langhar, a Delhi-based service for freshly cooked meals, shut down earlier this year, and Chennai-based OrderSnack closed after failing to raise funds. Eatlo, Freshmenu, and Frsh are others reported to be in a desperate hunt for funding and may be the next to bite the dust. We can expect more failures before fundamental issues in execution are sorted out in this space.
TalentPad
Hiring is a space with a clear opportunity as it's in the center of a boom in new businesses. But a multitude of players are also finding it challenging to offer a clear value proposition. One of these was TalentPad which shut down less than a year after it raised funding from Helion Ventures.
The IIT and IIM alumni founded startup from Delhi had a curated marketplace model using analytics to find suitable candidates for its client companies. It even acquired its Bangalore-based rival OptimizedBits in May to boost its analytical capabilities. But months after that it abruptly shut shop with this cryptic missive: "We helped a lot of companies hire from some of the best tech talent in India and played a crucial role in their growth, while delivering the best customer experience. But, we failed to figure out a scalable business for a big enough market."
India's engineering colleges produce over a million engineers each year, but fewer than 20 percent of them are employable. Finding suitable candidates, therefore, is no mean task. Hiring startups have to be nimble to figure out what works.
Venturesity, for example, went from a hiring platform to a training platform before pivoting to a hackathon model for talent discovery. Another startup Hiree focuses on candidates "actively looking" for jobs, so that recruiters don't waste time on dead lists. Initially it began with candidates serving out their notice period but changed its name from MyNoticePeriod to Hiree when it broadened its scope.
Townrush
Logistics is another hot sector in India this year as it feeds into the crazy ecommerce boom.Flipkart's US$25 million infusion into Blackbuck last week was the latest of several big deals. There are well-funded players for every link of the ecommerce supply chain.
Naturally, in such a dynamic and fast evolving space, there's bound to be consolidation as some of the smaller entities struggle to keep up. One of these was Bangalore-based Townrush whose delivery employees reportedly vandalized the office when they did not receive salaries for three months. Grocery delivery startup Grofers later disclosed it was acqui-hiring the Townrush team.
Jewelskart, Bagskart, Watchkart
All three niche online marketplaces were launched by Vayloo Technologies, along with Lenskart, an eyewear marketplace which is among the 15 top-funded ecommerce startups in India this year. The shutdown of Jewelskart, Bagskart, Watchkart which had more competition and less traction was therefore a strategic move to focus energies on the niche segment that took off this year.
Lenskart backers signaled their approval by pumping US$21 million into the eyewear marketplace this year. So here you have an emerging success story embedded in an apparent failure. This is also a classic VC model where the fast risers get strong backing while the slow growers get killed off early.
Source: Techinasia.com
Comments
comments